Breaking Down The Gender Pay Gap In Sussex
To protect people from discrimination in the workplace, the Equality Act 2010 (Specific Duties and Public Authorities) Regulations 2017 mandates that employers with more than 250 employees make their company's gender pay gap available to the public.
This information should be updated on an annual basis, as well as published on the UK Government's website and on the company's website. The hope is that this data will now be accessible to customers, employees and future recruits pushing employers to take action and address the gender pay gap in their organisations.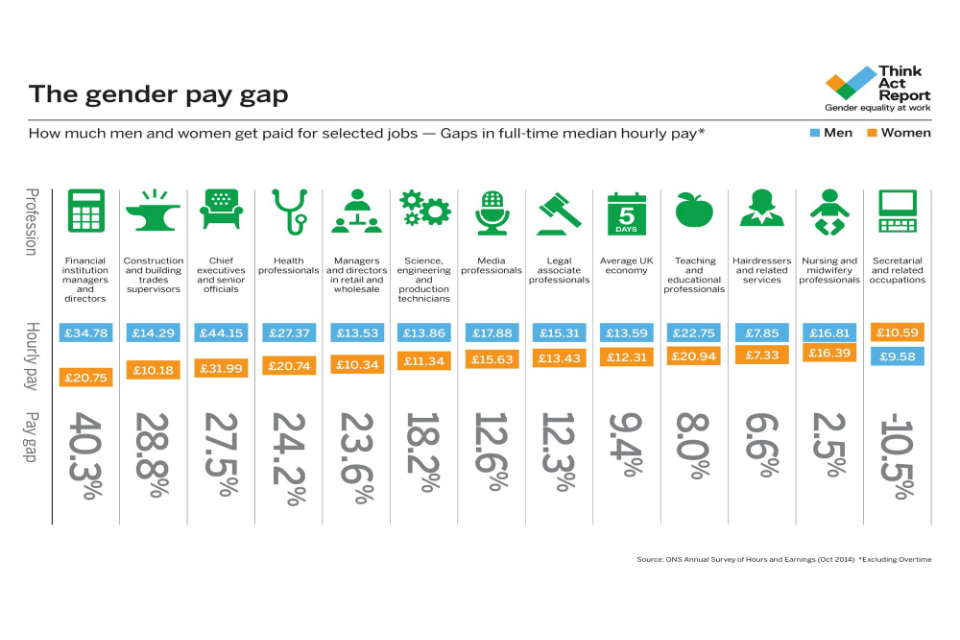 Source: https://www.gov.uk/government/publications/think-act-report/think-act-report
Gender Pay Gap vs Equal Pay Gap
Before we begin discussing the gender pay gap I want to clarify the very important difference between this and the equal pay gap, as the two terms are often confused.
Equal pay gap refers to the right of both men and women to receive the same rate for the same amount of work performed. Equal pay is a legal requirement.
Gender pay gap, on the other hand, refers to the average percentage difference between what men and women earn per hour within the same organisation (or same labour market).
Gender pay gaps are caused by a number of reasons, including the effects of part-time work, stereotypes, men dominating the highest-paid roles in the highest paid sectors, as well the fact that women's career progression is often hampered or slowed by the demands of childcare (something which disproportionately falls upon mothers).
The Office For National Statistics (ONS) pegs Britain's overall gender pay gap at 9.4%, with men earning £1.32 an hour more than women. More ONS data show that this gap widens for women age 40 onwards, with childbearing and rearing children cited as the top reason.
Female employees in Sussex, meanwhile, receive 20% less average hourly wage than men, which is way above the national average.
Gender Pay Gap In Sussex
As per the law, the first year of pay gap reports for public and private employers recently became available to public eyes.
Let's look at how the three major employers in the region are faring:
1. Brighton & Hove City Council
With its report fittingly published on International Women's Day, Brighton and Hove City Council broke the mould by announcing that they are one of the few local authorities in the world that has women earning more than men.
On average, women in Brighton & Hove City Council earn 6% more than their male counterparts. This result is attributed to the following:
In 2010, the council introduced a pay and grading system that evaluates all employees based on a standardised evaluation system.
In 2013, a system of allowances and expenses was implemented.
Women make up 60% of the council's total workforce.
There are more females in higher positions.
There are more females in posts with more allowances.
Family-friendly policies, including maternity/paternity leaves, flexible work, and childcare vouchers, among others.
Training all employees, especially recruiting managers, on diversity and equality.
2. Sussex Police
Sussex Police pay gap report reveals that, on average, male officers and staff receive 9.61% more than their female counterparts. Men also receive 0.63% for their bonuses, while the women officers and staff receive 0.3%.
Despite this, Assistant Chief Constable Di Roskilly says that Sussex Police's gender pay gap "compares favourably with national figures." Roskilly also highlighted how Sussex Police is one of the first police forces to sign up for the UN-backed HeForShe movement.
Moreover, Sussex Police and Crime Commissioner Katy Bourne said, the force will work harder to close the gender gap by encouraging and supporting more women, especially in senior positions.
Apart from supporting the HeForShe movement, Sussex Police also has various staff networks that aim to promote diversity within their ranks. This includes the Sussex Police Disability and Carers Association, the LGBT Network, and the Race Equality Network, among others.
The police force is also committed to addressing the pay gap by working with agencies like Working Families to provide benefits for those who need to balance work and family commitments.
3. University of Sussex
While they have no equal pay issue, gender pay gap at the University of Sussex is 15.3% for basic pay (apart from bonuses) and 20% mean pay gap. This pay gap is attributed to the underrepresentation of women at higher positions, despite women composing 53% of its staff. Moreover, the majority of the high earners are men.
The university's gaps in bonuses, meanwhile, are also significantly higher, with 50% in median bonus gap and 52% mean bonus gap. The gap in bonuses is attributed to the awarding of NHS clinical excellence rewards. As it is only paid to eligible staff, the rewards are outside the university's control.
Additionally, bonuses also increase according to grade. With fewer women occupying top positions, the average bonus for men also increases.
The university recognises a couple of recruitment issues: women are not rising through their ranks and women don't find Sussex an attractive city for senior posts.
To address and resolve this, they have committed to the following:
Continue investigating why women do not fill higher ranks
Make senior posts attractive to women
Proactively offering flexible work especially at recruitment phase
Making flexible working easy to arrange and change for current employees
Put more focus on supporting flexible working environments, such as part-time, compressed hours, working from home, job shares, and temporary flexible arrangements
Road To Further Progress
According to the Organisation for Economic Cooperation and Development, addressing the gender gap can boost the UK economy by £180 billion.
Moreover, 80% of CEOs said their bottom-line improved when they started to implement Diversity and Inclusion strategies. Business owners also have the added benefit of improved reputations, increased employee productivity, and attracting a wider pool of recruits.
Gender pay gap reporting brings to fore how much work is still needed in this arena. By looking at quantifiable and qualitative data, businesses across the country can now understand the underlying causes of this gap, and then act accordingly.